Sanibel Island Shopping
Sanibel Island shopping offers something for everyone. While our community may be best known for its beaches, wildlife and laid-back island vibe, it is also home to some of the region's best shopping venues and restaurants, and we're not talking novelty shell stores and souvenir shops. Upscale boutiques featuring finds from leading fashion designers, great home goods, the stuff one would need for any regard of recreational pursuit, and all kinds of treasures one could wish, Sanibel Island shopping is as complete as one might experience in any leading metropolitan area.
     Periwinkle Place is truly an irreplaceable experience, and a must see for anyone who loves shopping, or being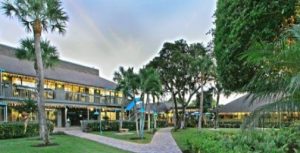 outdoors. The 7-acre, 26-store shopping center feels more like a park than a mall. The outdoor walkways are lined with waterfalls, and a variety of flowers adding to the ambiance of Periwinkle Place. There is also a playground for children, making it a great place to bring the family. To go along with the family-friendly atmosphere, the shopping in Periwinkle Place is second to none. Inside the center you will find the original Chico's, the famous (and award winning) Blue Giraffe café, Naples Soap Company, Sanibel Day Spa, as well as an array of other fine stores/boutiques. Have the kids with you, or looking for gifts for grandkids? Make sure you swing by Toys Ahoy, where you will find a variety of awesome toys you won't find anywhere else.
Tahitian Gardens
     The great shopping, and dining on Sanibel does not stop there! Inside the Tahitian Gardens center you will find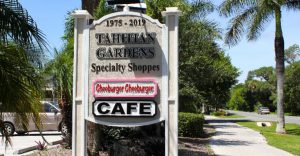 Shiny Objects, and The Cedar Chest Fine Jewelry. These are two of the best jewelry shops on the island specializing in glass work, and sea life jewelry. Looking for creative Island décor, and art? Then Pandora's Box is a must see when visiting the Tahitian Gardens, and don't forget to grab a bite to eat at the Sanibel Café before you leave (their homemade jam is amazing).
Jerry's Shopping Center
   While on Sanibel Island, Jerry's Shopping Center is another can't miss stop. The center has a very tropical layout with stunning plants, and flowers encompassing the entire property. There are also a variety of rainforest birds located all around the center adding to the tropical feel. Inside Jerry's Shopping Center there is not only an outstanding supermarket, but also many fine stores focusing on clothing, shoes, ice cream/gelato, coffee, beach supplies, and so much more! The diversity of stores in Jerry's make it a great one-stop shop for all your vacation needs!
   Whether you came to our community for the world class shelling, the top-notch resorts, or to do some fishing…don't forget that Sanibel Island shopping is another fabulous facet of life here! The variety, and ambiance is exclusive to Sanibel Island – making it an unforgettable experience.
Sanibel Island Shopping – For Homes?
For great home finds, see listings below.