Sanibel Island Best Bathroom
Posted: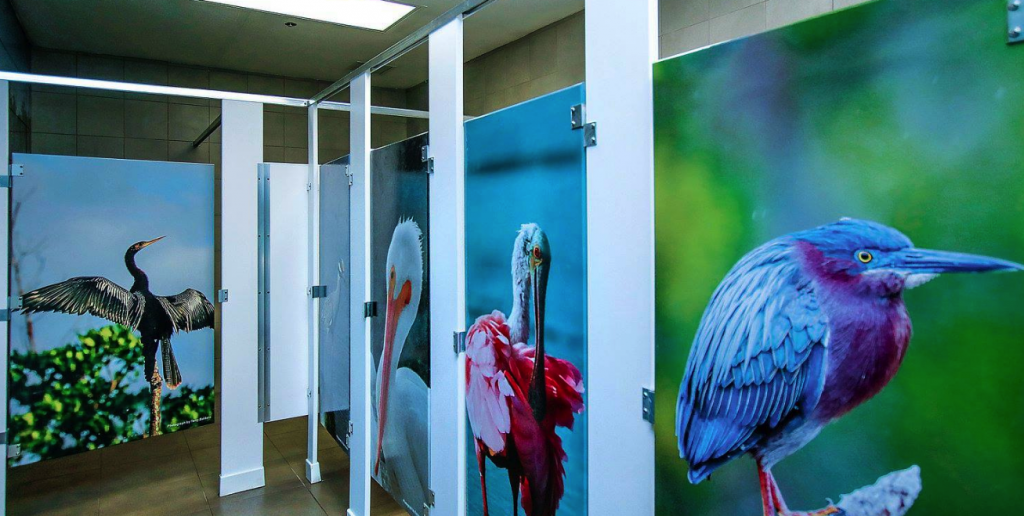 So we all know that Sanibel Island ranks high among lists of America's best beaches, America's best vacation destinations for families and is also a national hot-spot for those who love shelling. Yet, now, there is a new national accolade on the horizon, which may particularly resonate with those of you who support higher education & healthy hygiene. The Sanibel Island Best Bathroom is, in fact, part of a national contest sponsored by Cintas, a Cincinnati-based company specializing in the design,
manufacture and implementation of materials and supplies crucial to more than one million enterprises. These products include restroom supplies. The company is currently sponsoring a national contest to decree America's Best Restroom. As it turns out, among the finest of facilities in our nation can be found right here in our community. The Learning Lavatories found at the J.N. "Ding" Darling National Wildlife Refuge not only rank as the Sanibel Island best bathroom, but are among the finalists for the national title offered by Cintas.
The Learning Lavatories emerged last year with support from a grant provided by private donors and the West Coast Inland Navigation District. Visitors to the Sanibel Island best bathroom are treated to colorful wall murals of sea life which include manatees, various fish, birds and even an alligator ( the very thing you'd normally never want to meet in a bathroom). While this exercise has proven very popular and a visually appealing aspect of bathroom visits at the national wildlife refuge, there is good possibility that the Sanibel Island best bathroom may indeed achieve honors as the best in all of America.
As none want to see the opportunity for further national fame flushed from Sanibel, you're encouraged to do your part by voting for The Learning Lavatories at the Cintas' contest website. To cast your vote – Click Here!
Otherwise, for many of you, the Sanibel Island best bathroom may be the one that awaits within your own private home. Among the listings below, you'll not only find great bathrooms, but also living rooms, bedrooms and kitchens too! For more information on any property depicted, please don't hesitate to contact me by submitting the form below;
Courtesy of McCallion & McCallion

Courtesy of John Gee & Company, Inc.

Courtesy of John R. Wood Properties

Courtesy of Century 21 Sunbelt Realty

Courtesy of Kingfisher Real Estate, Inc.

Courtesy of VIP Realty Group,Inc

Courtesy of Premier Sotheby's Int'l Realty

Courtesy of Royal Shell Real Estate, Inc.

Gulfside Place A Luxury Condo

Courtesy of Pfeifer Realty Group LLC

Courtesy of VIP Realty Group,Inc

Pointe Santo De Sanibel Condo

Courtesy of RE/MAX of The Islands