Sanibel Island Beaches
Sanibel Island beaches have not only been distinguished among the most gorgeous in America, but are also esteemed internationally. The white sands, gentle ebb of the tides and pristine, protected, beauty of these spaces continue to attract both visitors, and home buyers, alike. Sanibel Island beaches are especially cherished by shell collectors. Our richness in shells has lead to the creation of a world-leading institution known as the Bailey-Matthews National Shell Museum. Sanibel Island and Captiva also hosts one of the most festive and celebrated of annual events in all of Florida, known as "Shellabration," a week-long series of activities that plays homage to local history and treasures of the sea which in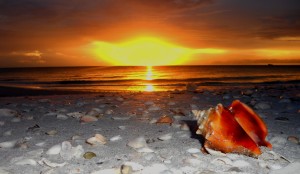 cludes concerts, arts & craft fairs, fun for foodies and lots of fellowship. In fact, the abundance of shells on Sanibel Island beaches helped bring attention to a bit of bodily posturing known as "The Sanibel Stoop," essentially, the stooped-over position one assumes when searching for shells. Several years ago, a Guinness World Record was set when shell hunters horded together on Sanibel Island beaches in what became the largest single gathering of people engaged in a treasure hunting  pursuit – the most stupendous of stoops on Sanibel or any where else in the world. But whether it is shells, or boating and fishing, or simply strolling along the shore to observe dolphins at play or a scenic Southwest Florida sunset, Sanibel Island beaches offer more than merely space, indeed, these are sanctuaries.
The beaches remain one of my favorite things about living on Sanibel Island, but I also love to walk. Whether with my kids, with my dogs, with my friends, or by myself, an early morning walk along the beach is an enriching experience unto itself. When the sun is just rising, a dewy glow is cast over the grass which contrasts against the seeping of color into the sky. There is peace and calm, but also sandpipers singing against the rhythmic splash of the tide. Because it's so early, most tourists are still asleep, so the usually populated beaches are beautifully serene. The motion of walking down the beach is calming, meditative even, helping me calm my mind and prepare for the day ahead. When you can, try to wake-up early and visit the beach. I guarantee that it'll be worth your while and one of the best ways to begin your day.
The following offers insight on great enclaves located among Sanibel Island beaches
Lighthouse Beach and Fishing Pier
Few things more quintessentially Sanibel to me. Here you can find the iconic and historic lighthouse, an excellent fishing pier, a wide variety of shells, interesting walks and boardwalk nature trail winding through native wetlands.  It's definitely one of the best beaches to visit on the island. It's also an easy kayaking destination from the boat ramp right next to the Causeway. Restrooms are available.
Tarpon Bay Road Beach Access
Tarpon Bay Beach Access requires a short walk from the parking lot, and because of this, most tourists tend to prefer going to other beaches. For those who are willing to walk a little ways to and from the car, the payoff can sometimes be huge. The short walk through a lovely wooded area opens up to the vast gulf.  Restrooms are available.
Causeway Beaches  
Great for swimming, fishing, windsurfing and picnicking. Pull your vehicle right to waters edge. There is no fee when you park on the causeway beach. Located along both sides of the road. Restrooms are available.  Free parking
Bowman's Beach
Pristine and quiet. For those looking for a more peaceful Sanibel public beach, this is your best bet  Park and walk over a bridge to secluded white beach. There is an outdoor shower located at this beach. This is the only beach with barbecue grills. Restrooms and outdoor shower
Gulfside City Park
Great mid Island location.  Restrooms and outdoor shower
I think it's nearly impossible to find yourself out of walking distance from the beach on Sanibel, no matter where you live on the Island  Approximately three miles at its widest, you can never be further than 1.5 miles from either the gulf or the bay. What's more, if you walk, you save yourself the hassle of Public Beach Access parking fees!
For information on homes near Sanibel Island beaches, connect with Realtor Kelly Halle by submitting the contact form below:
Current Sanibel Island Homes for Sale
Courtesy of Pfeifer Realty Group LLC

Courtesy of VIP Realty Group,Inc

Seashells Of Sanibel Condo

Courtesy of Kingfisher Real Estate, Inc.

Courtesy of McCallion and McCallion

Courtesy of Keller Williams Realty Fort My

Courtesy of Pfeifer Realty Group LLC

Courtesy of Pfeifer Realty Group LLC

Courtesy of Premier Sotheby's Int'l Realty

Courtesy of VIP Realty Group,Inc

Courtesy of Kingfisher Real Estate, Inc.